Celeriac is a big, bulbous and beautiful root topped with a funky hairstyle, which gives it real character. It's in season from October throughout the winter until March and can be drawn upon when we are tired of ubiquitous winter stalwarts such as leeks, carrots and onions.
Celeriac is often called the "ugly vegetable", but cosmetically perfect fruit and vegetables, hygienically wrapped in plastic, are no longer what everyone desires. Mud and imperfections often show that the vegetable has been grown by people, in soil – as opposed to an ingredient grown in what is more of a laboratory than a farm. Vegetables grown in small production and/or with organic methods are often more expensive, as they're more labour intensive. But it's comforting to know that investing in good food supports farmers, people, and the environment. Celeriac in all its unconventional beauty represents the better side of farming for me. We may not all be able to afford organic veg, but wherever possible, the difference it makes is worth it.
Even though celeriac is native to the UK – bred in the 18th century from the same plant as celery to produce a bulbous root – I think of it as an exotic vegetable and treat it as such in my cooking. Although it has a powerful flavour with sweet notes of aniseed, it's bite stands up to bakes as well as strong flavours and spices. That said, one of my favourite ways to use celeriac is sliced into pound-coin-thick slices, tossed in double cream, shards of garlic and a mashed anchovy, then baked in the oven for an hour to make a divine gratin. A dish worthy of the finest table.
Celeriac makes a welcome addition to any number of recipes from around the world. Try adding cubes of celeriac to a rich Indian-spiced curry or adding strips to a Vietnamese Pho for a seasonal twist. In the recipes that follow I've adapted the quintessential Italian soup minestrone, incorporating strands of celeriac in place of pasta, making the soup lighter and gluten-free. My other internationally inspired recipe is a traditional Jewish dish made with grated potato, called latkes. Celeriac replaces the potato here, giving a real depth of flavour and savouriness making these fried treats remarkably moreish.
To make your celeriac matchsticks
This can be served as a salad alongside fresh fish or grilled meat, and also serves as the base for the following four recipes.
1 celeriac (whole weight about 1kg)
Half a lemon, squeezed
Salt and black pepper
2 tbsp capers (optional)
1 tsp chilli, finely chopped (optional)
A small bunch of parsley, stalks finely and leaves roughly chopped
1 Trim the rough roots off the celeriac with a knife, then give the celeriac a good scrub under a running tap.
2 Peel the remaining skin and put to one side (see tip).
3 Cut in half, then cut into slices as thinly as you can. Stack three slices on top of each other, and finely slice them into matchsticks about 3-4mm thick. Repeat. You could also use a mandolin or grater, but I like the irregular texture of hand-cut vegetables.
4 Put the matchsticks of celeriac into a bowl and dress with the lemon juice. Season with salt and pepper, and mix in the capers, chilli and parsley.
The autumn salad: Celeriac, pear, celery and chicory slaw with yoghurt aioli (above)
In autumn, it is easy to turn to cooked comfort foods and neglect fresh vegetables: this dish is raw and comforting, fulfilling both needs.The yoghurt lightens up the recipe replacing the more commonly used mayonnaise or aioli.
Serves 4
200g celeriac matchsticks
1 conference pear, sliced into thin strips
1 celery stick, finely sliced, including leaves
1 chicory, finely sliced into discs
1 tsp black onion seeds
150ml live full-fat yoghurt
1 garlic clove, crushed
1 sprig of mint, picked, finely sliced
1 Put all the fruit and vegetables into a bowl. Top with the seeds, yoghurt, garlic and mint. Stir thoroughly and season with salt and pepper if necessary.
The comforting soup: Minestrone with celeriac 'pasta'
Minestrone is delicious at any time of year, and all the ingredients are interchangeable andcan be replaced with whatever is in season. In this gluten-free version, I have used matchsticks of celeriac instead of pasta. You could do the same with courgettes, carrots or even squash.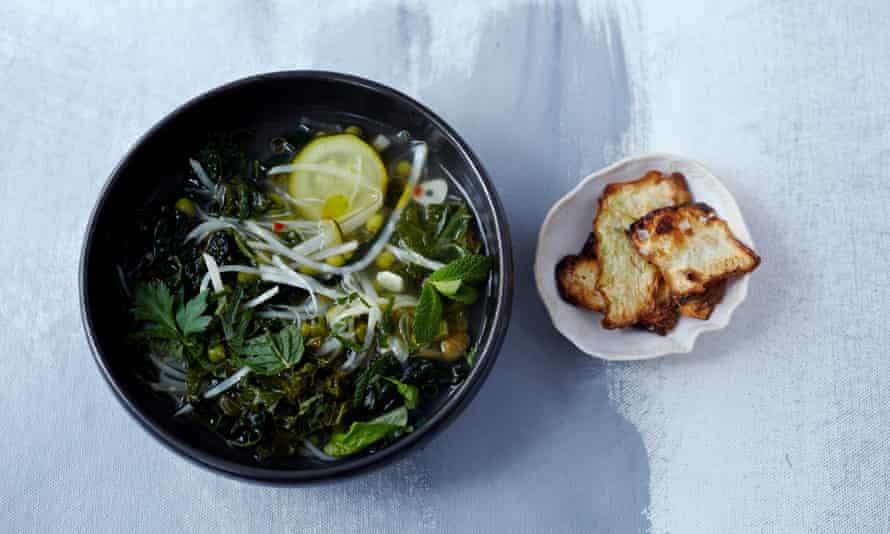 Serves 4
1 tbsp olive oil
1 onion, diced
2 garlic cloves, sliced
100g courgette, cut into thin slices
800ml water
250g fresh peas, podded, or 80g frozen
80g kale, stalks finely chopped leaves roughly
200g celeriac matchsticks
Juice of half a lemon
15g of fresh mixed herbs, such as mint, basil and parsley
Salt and black pepper
Extra virgin olive oil, for drizzling
1 Gently saute the onion, garlic and courgettes in olive oil for 5 minutes on a medium heat. Be careful not to add colour to the onions: you want a nice clear, fresh soup.
2 Add 800ml water and bring to the boil, then add the peas, kale and prepared celeriac. Bring to a gentle simmer for 5 minutes.
3 Finish with a squeeze of lemon, the chopped herbs and salt and pepper if necessary. Serve in wide bowls topped with a generous drizzle of extra virgin olive oil.
The savoury snack: Celeriac and blue-cheese muffins
These savoury muffins are delicious, and rather healthy, too. They are quick to assemble and make a rewarding lunch or afternoon snack.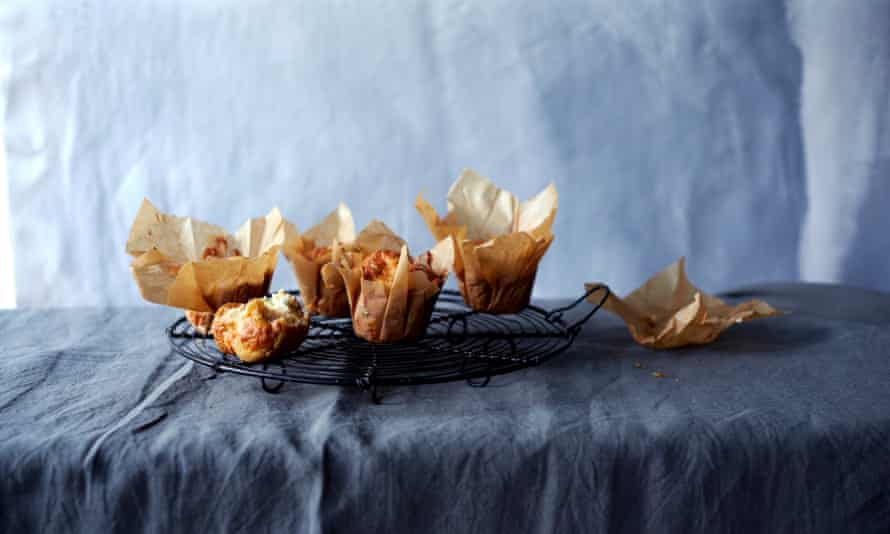 Makes about 12
200g spelt flour or wholemeal flour
2 tsp baking powder
∫ tsp bicarbonate of soda
2 eggs, lightly beaten
250ml live yoghurt
200g celeriac matchsticks
60g blue cheese, crumbled (optional)
1 Preheat the oven to 180C/350F/gas mark 4. Combine the spelt flour, baking powder, bicarbonate of soda, eggs, live yoghurt and the prepared celeriac. Mix well to combine.
2 Stir in the blue cheese and spoon into a buttered muffin tray.
3 Bake for 15-18 minutes, until golden brown on top. Remove from the muffin tray and devour.
The light lunch: Celeriac latkes with sour cream
Latkes are a traditional Jewish dish usually made with potatoes. However, I find they work really well made with any root vegetable. Eat them for dinner with sour cream or fry them up for breakfast with an egg.
Makes 4
200g celeriac matchsticks
2 tbsp matzah meal, wholewheat flour or spelt flour
1 egg, lightly beaten
100ml sour cream, to serve
1 Pick up handfuls of the prepared celeriac and squeeze out all the juice, putting the squeezed celeriac in a clean bowl. When you have removed the excess liquid (which makes a great salad dressing mixed with a little olive oil), stir in the matzah meal (or flour, if using) and the egg.
2 Fry spoonfuls of the mixture in a medium hot frying pan with a glug of light olive oil. Flatten the latkes slightly, then leave them well alone until they are golden and ready to flip.
3 Turn and fry for a further minute or two, then remove from the pan. Serve topped with a dollop of sour cream.