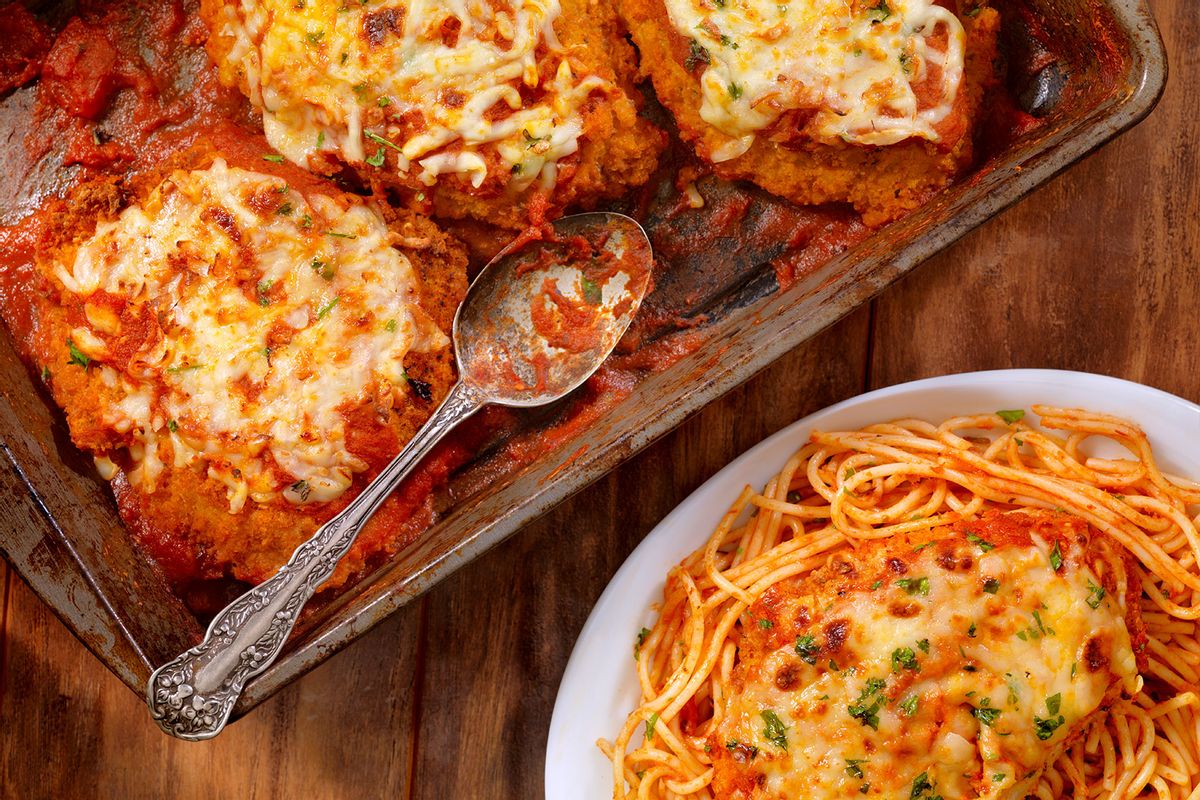 There's a National Cheese Lovers' Day, but this food "holiday" shouldn't be regulated to one fleeting day. Do we deserve cheese pulls galore every day — am I right, fellow cheese lovers?
If you're hoping to make this weekend a cheese extravaganza, why not try some of Salon Food's stellar, uber-cheesy dishes? They're all immensely, deliciously cheese-laden — and we couldn't recommend them more.
To really up the cheese factor, you could pair one (or more than one) of these recipes with a cheese plate or cheese-centric dessert. On Netflix's superb new show "Pressure Cooker," one of the chef-contestants states during a cheese challenge that "you've never heard of pecorino ice cream." But, frankly, why not?
When it comes to cheese, does the limit exist? Without further ado, here are 11 easy, cheesy recipes from Salon Food that taste like comfort: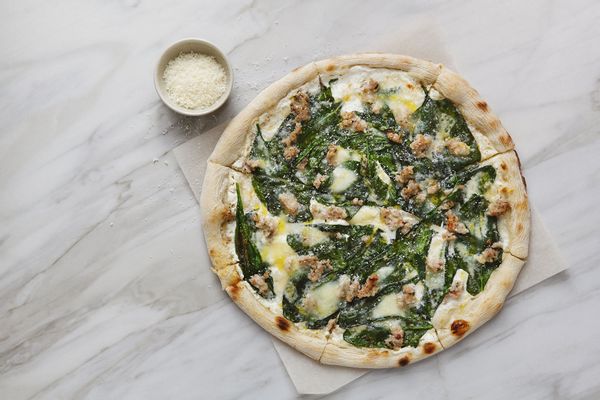 Pizza with chopped meat, spinach, and cream sauce (Getty Images/Eugene Mymrin)Image_placeholder
With plenty of verdant kale to bulk up the nutritional component, a choose-your-own crust, a mountain of not one but three separate cheeses, and the inclusion of a ground-browned protein option, this pizza is your new super-cheesy go-to.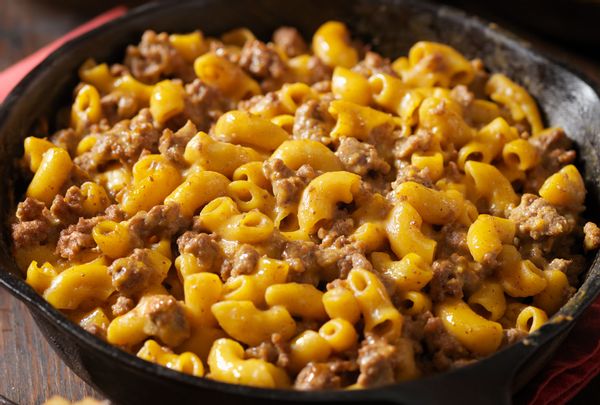 Cheesy Hamburger and Macaroni Dinner (Getty Images/LauriPatterson)
Image_placeholder
Toss that old box in your pantry out and make this instead. While you can customize, mix and match, or swap as you see fit, the end result will be delicious, definitively cheesy, and tailored precisely to your own tastes. With the unique inclusion of buttermilk powder, lots of cheddar, and interesting notes of smoked paprika, you'll be amazed by this super-comforting dish.
As deputy food editor Ashlie Stevens writes, "This recipe takes a one-box convenience meal and turns it into a multi-ingredient dinner. Packed with surprising punches of flavor, it belongs in your winter recipe rotation." Sounds like an A+ option, no?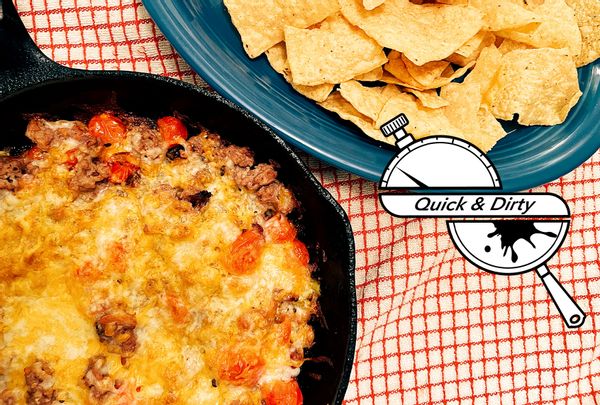 Cheesy Chicken Reverse Nachos (Mary Elizabeth Williams)
Image_placeholder
Nachos are pretty unquestionably terrific, but in this case, senior writer Mary Elizabeth Williams takes some inspiration from Mark Bittman and makes a cheesy, spicy and flavorful "reverse nacho" dish, complete with lime, cherry tomatoes, ground turkey, and heaping amounts of tortilla chips.
If that hasn't sold you yet, perhaps this will, as told by Williams herself: "I made this on a recent evening after a rough day of blood work at the doctor, and I felt comforted and fortified after only one bite. I can't guarantee it will fortify you in the same way, but I do know there aren't too many days that can't be made better with cheese and chips for dinner."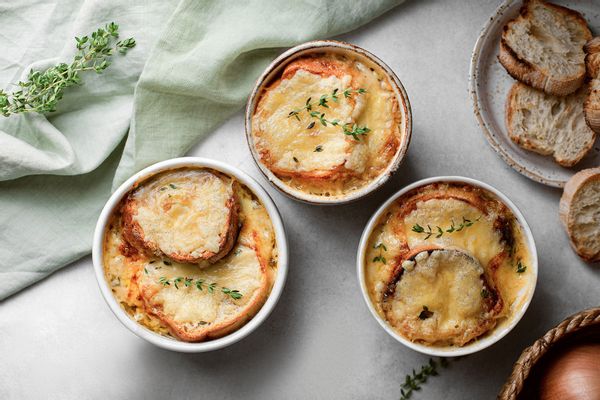 French onion soup (Getty Images/Anastasia Dobrusina)Image_placeholder
There's no need to wax poetic about French onion soup. It's an iconic dish and a stalwart for all of the right reasons. This version eschews beef stock and soggy bread, instead focusing on the highlights: a rich, sumptuous, dark broth and cheese atop cheese, with some crispy, toasted bread (and lots of onions) to tie it all together.
Home-made fresh beef lasagna with finely chopped parsley (Getty Images/hauling)Image_placeholder
Lasagna is a true beacon of a dish. A perfect one-pot meal, it's an easy dish to make and then wrap up with foil to deliver to a new neighbor or grieving friend. While lasagna doesn't require any sides, a green salad, some crusty bread, and some extra sauce and grated cheese on the side are certainly welcome at dinnertime.
Moreover, you can tweak the flavors, ingredients, or inclusions as you see fit. I also love lasagna because it's a built-in leftover machine. If you make this recipe, you'll be having lasagna for lunch for the next few days. I don't know about you, but lasagna for lunch sure sounds lovely to me.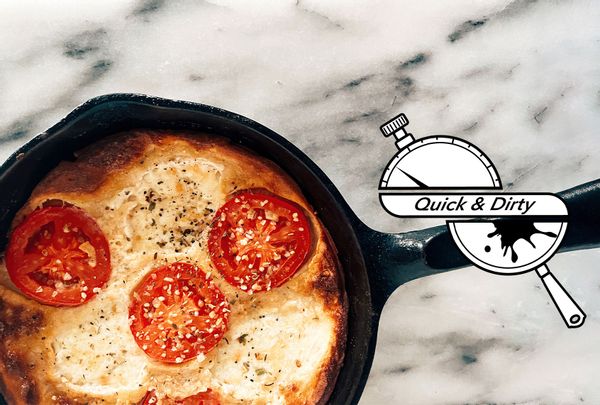 Dutch baby pizza (Mary Elizabeth Williams)Image_placeholder
As Williams writes, "I like this Dutch baby pizza in an easy-to-manage small portion because it says 'dinner is served' when you don't even want to wait for takeout. The only trick is to show some restraint; this is a baby after all, it can't handle a heavy hand with toppings."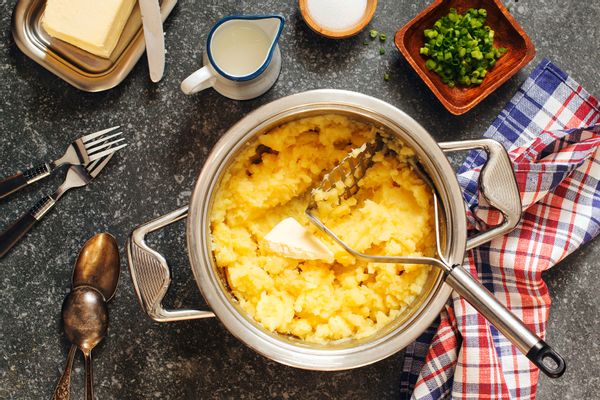 Mashed potato in cooking pan (Getty Images/Anjelika Gretskaia)Image_placeholder
The culinary equivalent of a plush, warm pillow, this dish is a dependable standard for every one of my holiday meals. Lush, soft, deeply cheesy, and redolent with butter and cream, these mashed potatoes will never, ever go out of style.
While these potatoes are a holiday go-to for me, who says you can't enjoy them on a particularly frenzied Wednesday afternoon? If you don't have mascarpone or chives on hand, no worries. All you really need here are potatoes, cheddar, cream, butter, water and salt.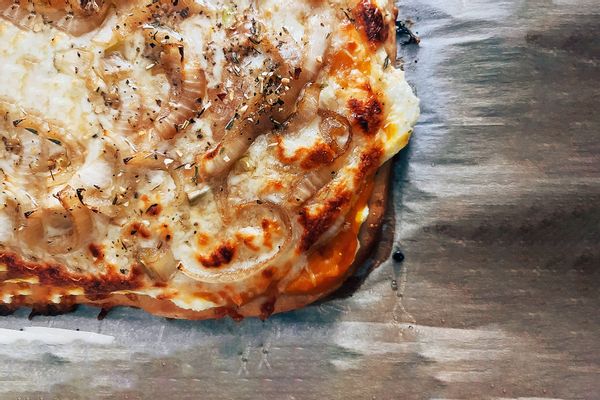 Pumpkin Pizza (Mary Elizabeth Williams)Image_placeholder
Williams writes that she "discovered my very favorite pizza in the world several years ago, on an autumn visit to a friend in Missoula. Normally, I would be skeptical of Montana as a pizza destination, but my friend is a former New Yorker and full-time Italian, so I trusted her.
At
Biga
Pizza, we ate a magnificent creation of squash, caramelized onions, and two kinds of cheese. I returned home determined to have as much of exactly that in my life as possible."
In her iteration of the pizza, Williams utilizes a can of pumpkin purée in a marvelous manner, combining it with two kinds of cheese, some herbs, and a batch of caramelized or sautéed onions. While some might lean into a pumpkin (or pumpkin spice) only in the fall, there's no reason to limit your intake or minimize your pumpkin love to only one season. We eat butternut all year long, don't we?
Conchiglie pasta with pumpkin stuffing (Getty Images/VICUSCHKA)Image_placeholder
This stuffed shell recipe utilizes brown butter, pesto, cream, and pumpkin seeds, along with butternut squash, herbs, and ricotta to bolster your stuffed (and baked) pasta love to new heights. This recipe has a ton of different cheeses, herbs, and flavorings, which will impress and tantalize even the most pasta-averse (if people of that ilk even exist).
On the recipe page, I write that "there's something deeply comforting and reassuring about stuffed shells: perfectly cooked, pliable pasta shells filled to the brim with the creamiest ricotta mixture imaginable, doused in sauce and cheese galore and baked until perfectly golden. It doesn't get much better than that, especially on a holiday." It doesn't get much better than this.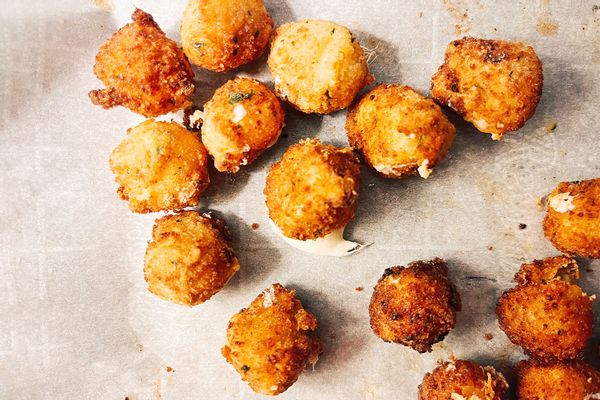 Mozzarella Balls (Mary Elizabeth Williams)Image_placeholder
A smaller version of a mozzarella stick? We're in.
As Williams writes, "You can buy regular, low-moisture supermarket mozzarella, cube it up and fry it pretty effortlessly any night of the week. But there's something really cute — and really tempting — about those little cheese balls known as bocconcini. Round stuff is just fun."
Enjoy some piping hot, freshly fried mozzarella at home with this stellar recipe. The
cheese
pulls will be truly Instagram-worthy.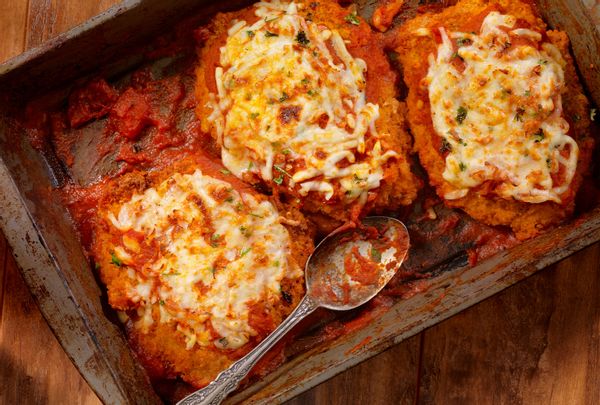 Chicken Parmesan Baked in Tomato Sauce (Getty Images/Lauri Patterson)Image_placeholder
Alas, the piece de resistance!
I worked really hard to develop this approach to
classic chicken
parmigiana, swapping the sauce-chicken-cheese parameters and instead going in a slightly different direction, which helps to place the focus on the
crispness of the fried chicken cutlets
and the sheer amount of cheese used.
This is one of my favorite recipes of all time. I hope you will say the same after making it.