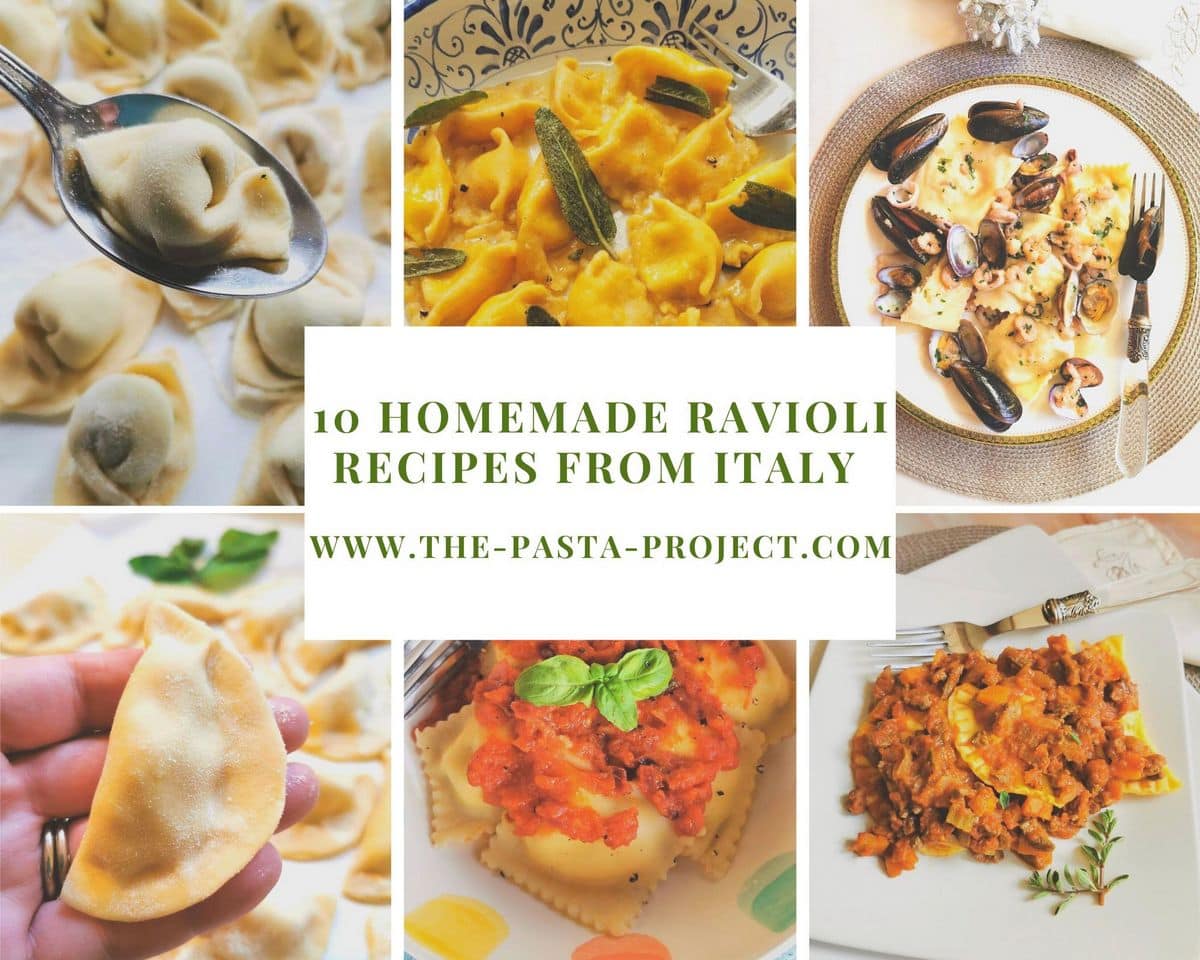 In Italy, there are many types of traditional ravioli with all kinds of delicious fillings. Italians love to serve homemade ravioli on Sundays, special occasions, and holidays such as Christmas. Why not release your inner Italian with this collection of 10 homemade ravioli recipes from Italy? These recipes include vegetarian, seafood, and meat-filled pasta. So, something for everyone!
What are the different types of ravioli?
What many non-Italians refer to as ravioli often has different names in Italy. Of course, all are filled pasta, mostly made with a dough of flour and eggs or without eggs. But, the filling ingredients, the shape, and size, and the names vary throughout the country. You can find filled pasta called ravioli, tortellini, tortellini, pansotti, agnolotti, cjarsons, and many more.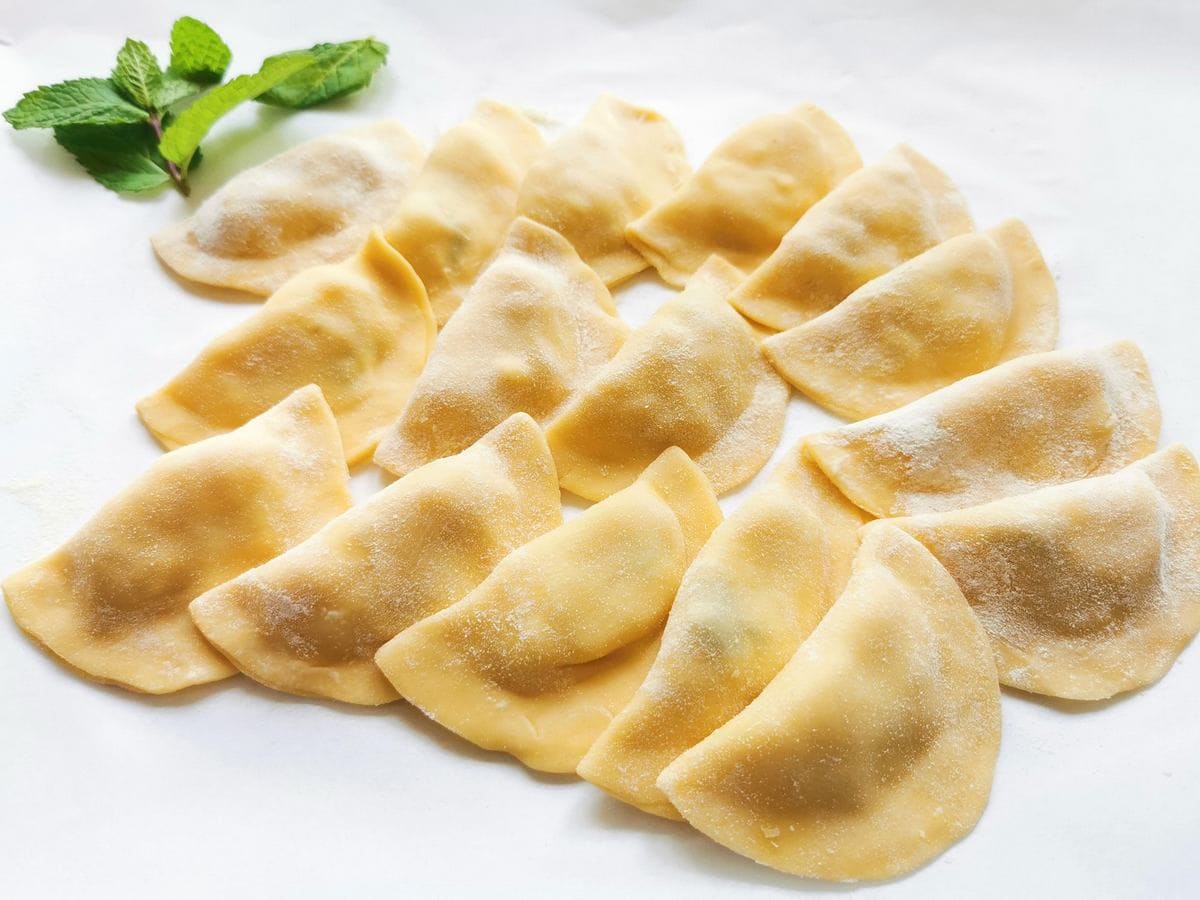 Ravioli is almost always round or square. Tortelli is often rectangular or semi-circular or even large squares. But, there are also some types of tortelli that look like bonbons or sweets. Other filled pasta shapes have more particular names which refer to the shape. For example, Ligurian pansotti is so called because this pasta resembles a pot belly and the name comes from the Genovese word for the belly, 'pansa'!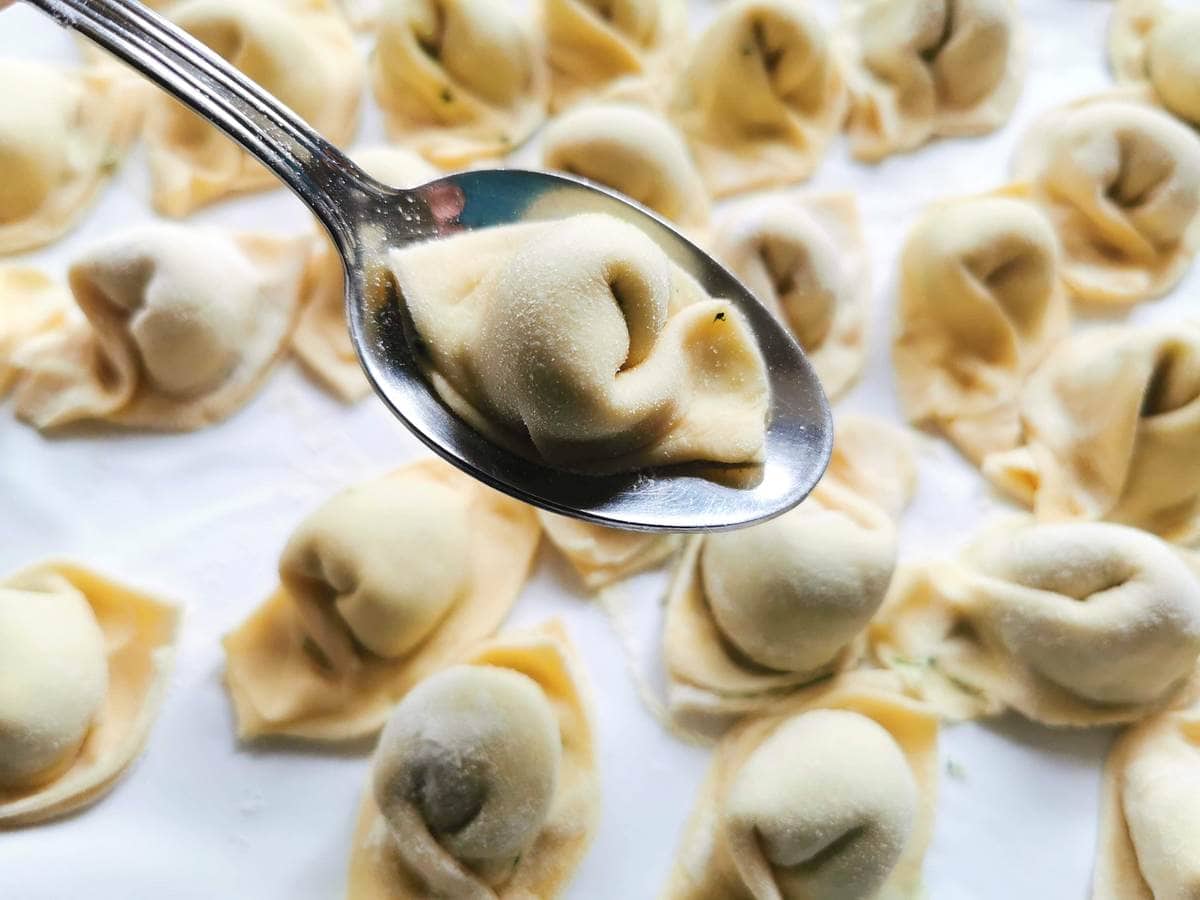 A little ravioli history.
Food history tells us that some types of filled pasta date back to Ancient Rome. However, the first written reference to ravioli is from the 12th century. The word tortelli, on the other hand, comes from the Medieval 'torta', a savory pie.
From torta, the Italians use tortelli, tortellini, and tortelloni to express size variations. The word 'riavvolgere' means 'to wrap' in Italian and some believe this is the origin of the word ravioli. But, others think ravioli was actually named after a well-known 13th-century chef in the Genova Republic whose family name was Ravioli!
Whatever the origins of the different types of ravioli and tortelli, from the 1300s all kinds of filled pasta began to appear on tables throughout many parts of Central and Northern Italy.
Today, along with more contemporary types, there are many Italian-filled pasta recipes. I would say even hundreds if you count the various fillings, shapes, sizes, and dough ingredients. The selection of 10 homemade ravioli recipes below is just a small sample of how Italians make and serve their filled pasta.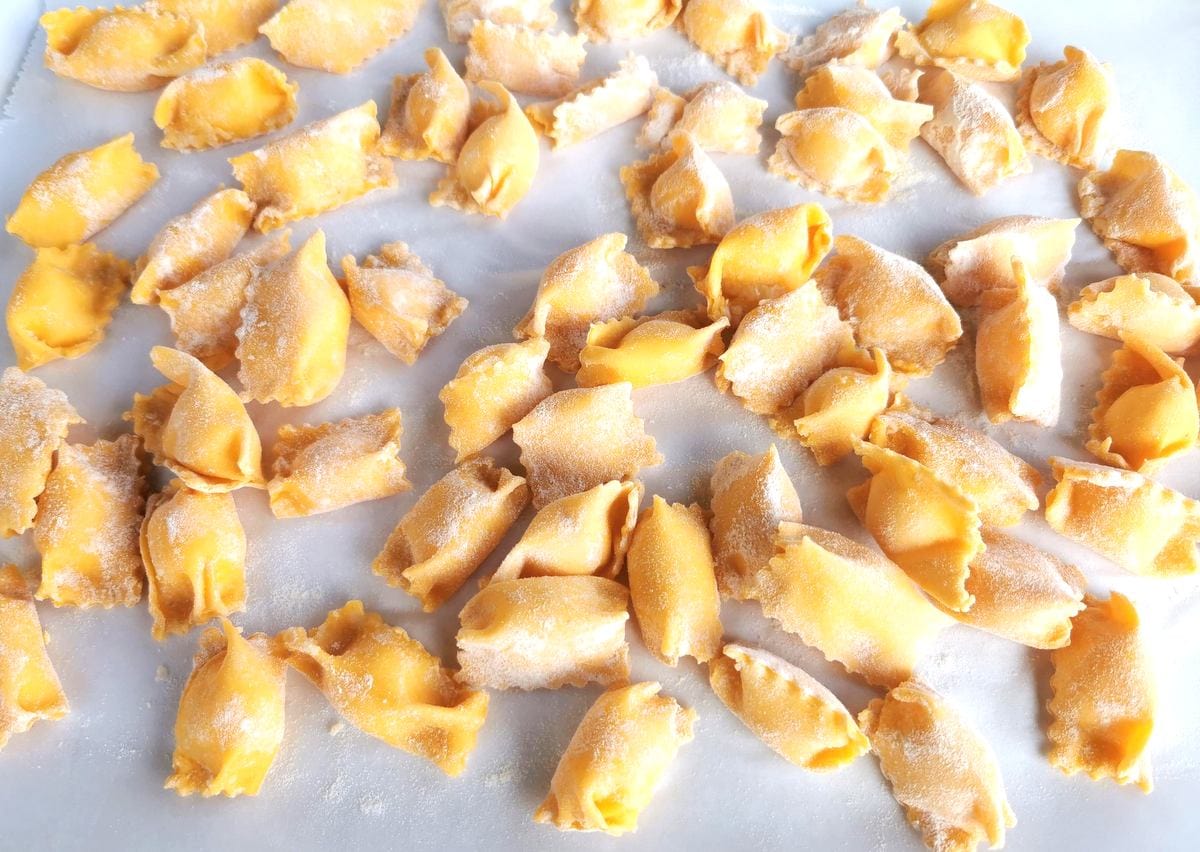 Why not treat your family and friends to a real authentic Italian ravioli recipe next time you want to make something special?
Homemade ravioli recipes from Marche.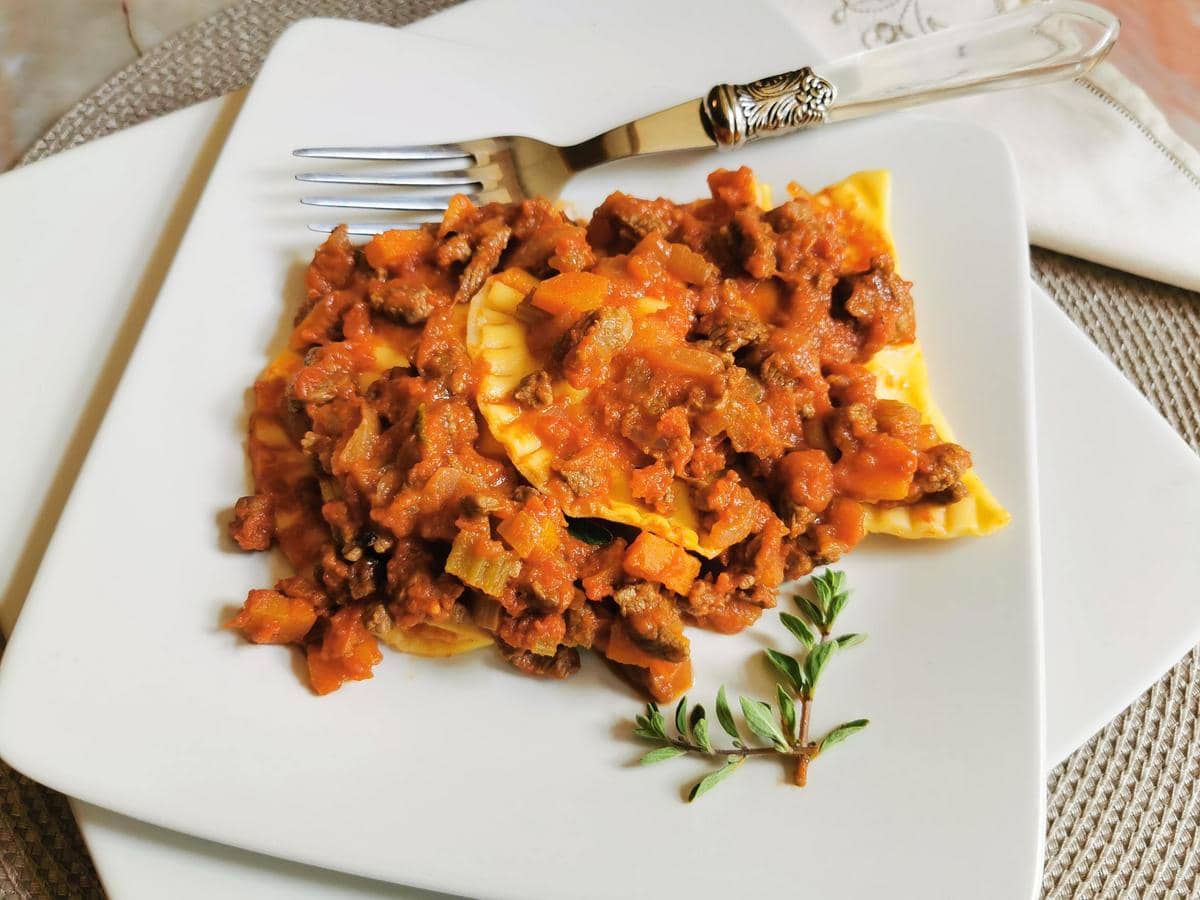 This traditional homemade ravioli from the Marche region has a no-cook filling of ricotta, nutmeg, egg, and Parmigiano. The sauce is a really flavourful steak ragu. But, you can easily make this recipe vegetarian by using a vegetarian parmesan and serving the ravioli in a tomato or vegetable sauce.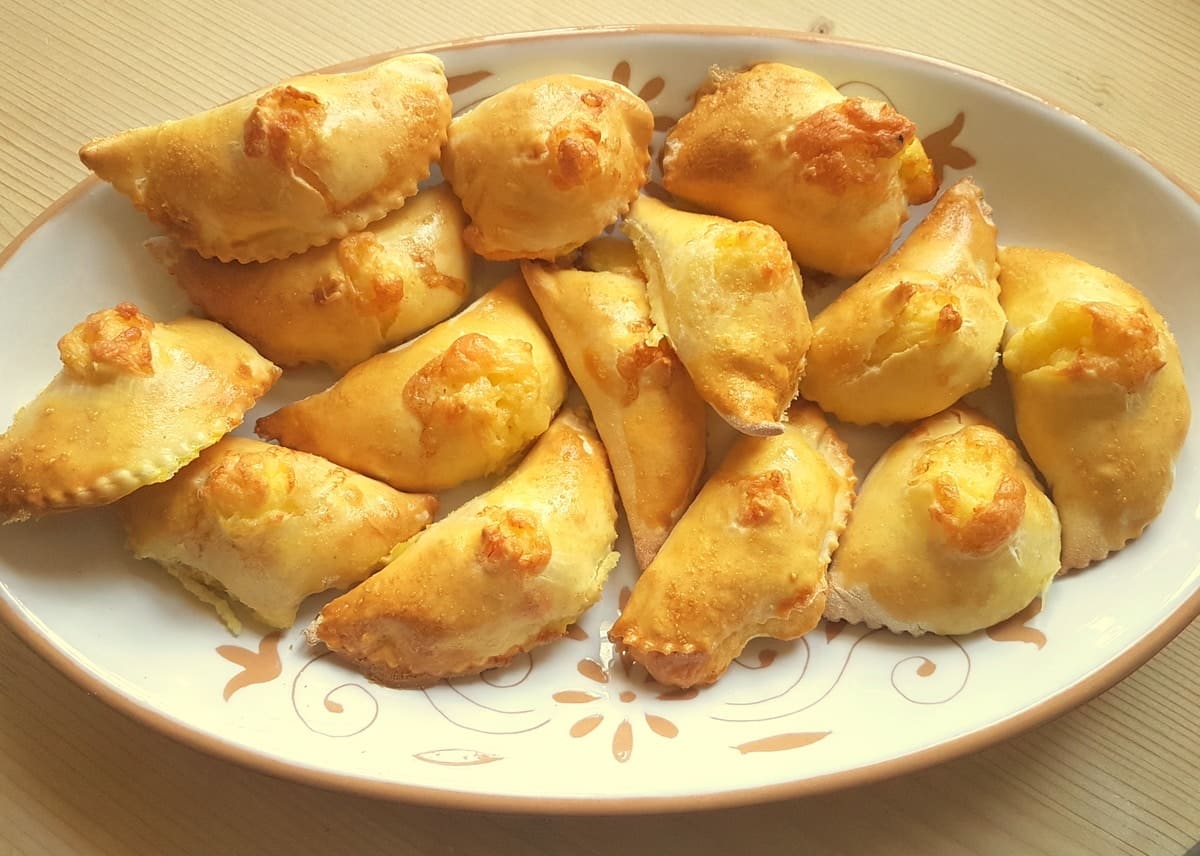 This second recipe from Marche is for a baked ravioli that's traditional for Easter breakfast or brunch. But, I think you can serve these on any occasion. Known as piconi Ascolani, the filling in this ravioli has 3 types of cheese, eggs, and lemon zest.
The dough is soft wheat flour and eggs, plus a little olive oil or butter. In Marche, they bake this ravioli in the oven and eat it as finger food, like a savoury pastry.
Homemade ravioli recipes from Liguria.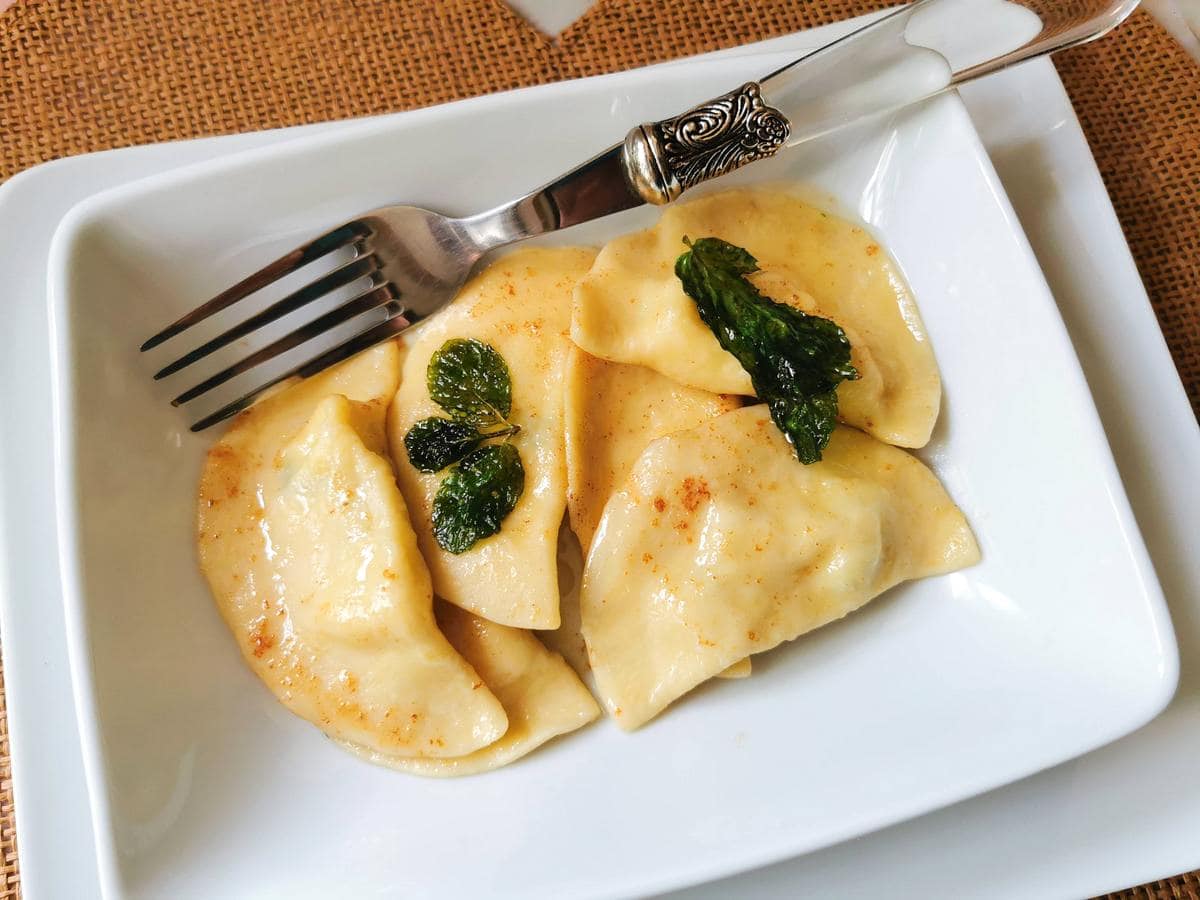 Known as le turle de Mendatica in the local dialect, this Ligurian potato and mint ravioli is a traditional dish from the Ligurian Alps, where there is a unique local cuisine they call la cucina bianca della Liguria (the white cuisine of Liguria).
The ravioli dough calls for soft wheat flour, eggs, and warm water. The filling has potatoes, eggs, mint and a local cheese Italians call Toma. You can also use brie, fontina, provolone or ricotta.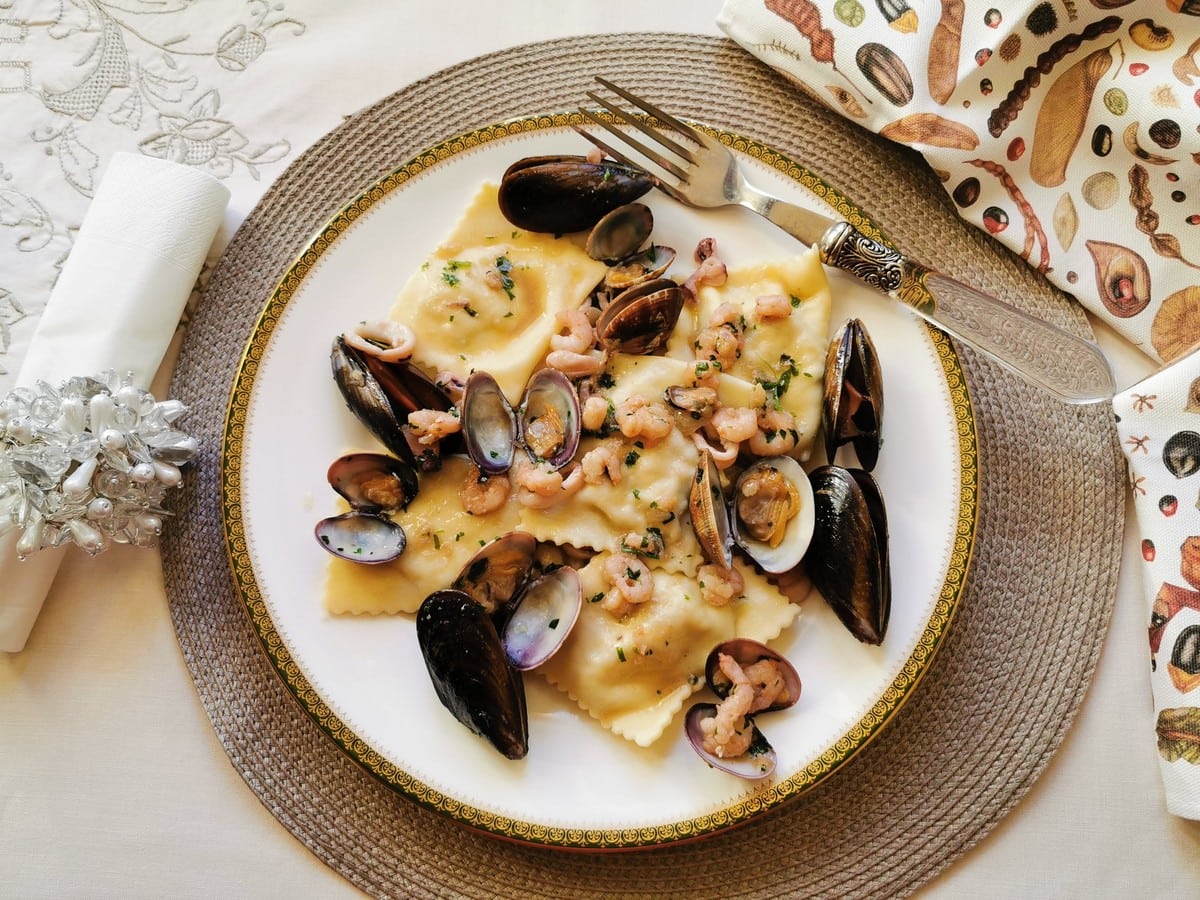 This homemade seafood ravioli recipe from Liguria is a perfect elegant dish for special occasions. The ravioli is filled with baked white fish. I used bream and snapper. Other filling ingredients are herbs, garlic, a little Parmigiano, and eggs.
The dough is just soft wheat flour and eggs. And, the ravioli is served in a delicious seafood sauce of calamari, mussels, clams, and shrimp.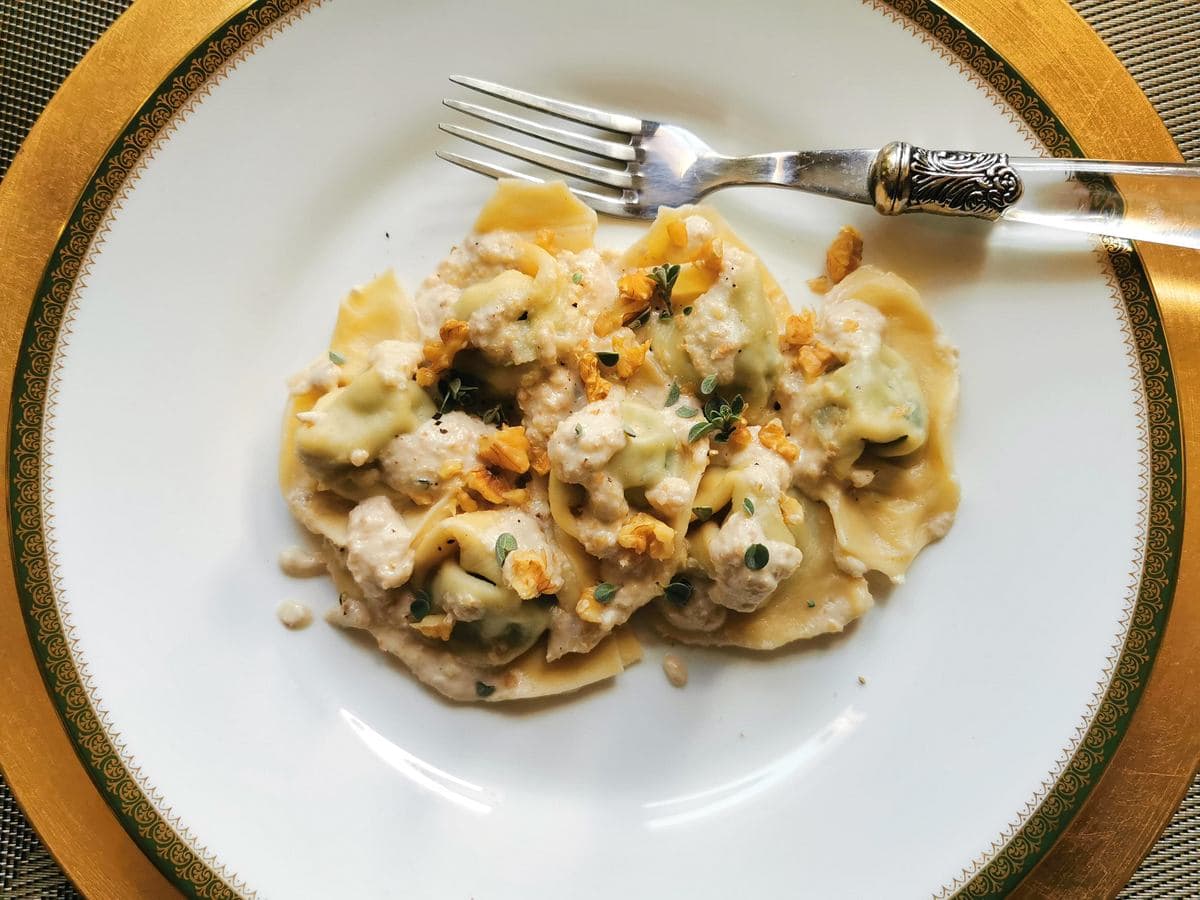 This third homemade ravioli recipe from Liguria is for a traditional meatless-filled pasta known as pansotti. Similar to cappelletti or tortellini, the pansotti (or pansoti) filling consists of ricotta and a variety of herbs and greens. The pasta dough has soft wheat flour, eggs, water, and wine, although you can also make it without eggs.
In Liguria, they eat this ravioli-like pasta with a walnut sauce, although some people serve it with hazelnut sauce instead or just melted butter and sage. You can easily make this recipe vegetarian by replacing the Parmigiano in the filling and sauce with a vegetarian parmesan.
Homemade ravioli recipes from Friuli Venezia Giulia.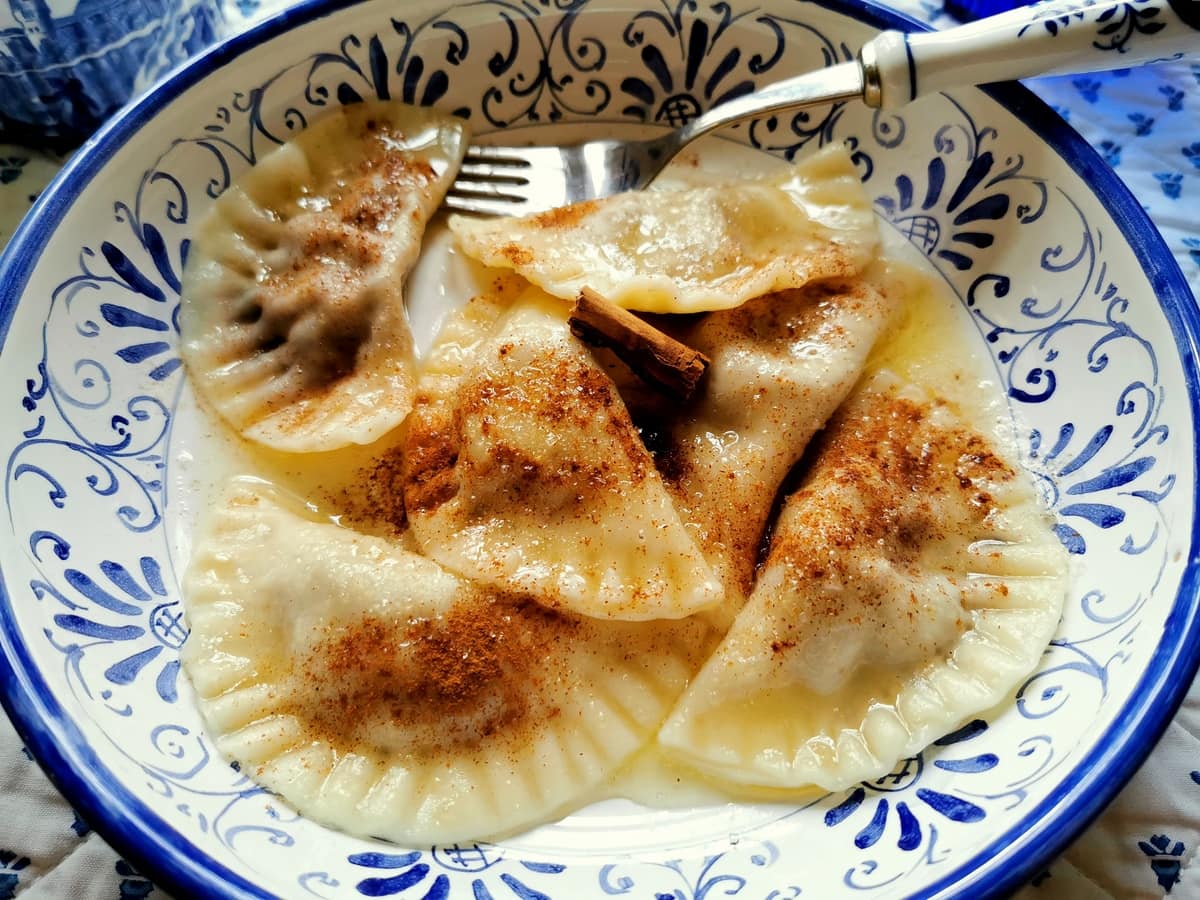 Sometimes called agnolotti di Pontebba, these cjarsons are a traditional sweet ravioli from the town of Pontebba in the Carnia Alps area of Friuli Venezia Giulia, near the border with Austria. The ravioli filling has ricotta, figs, prunes, and a little sugar and salt.
The dough is soft wheat flour, eggs, and water. Traditionally, this pasta is served with melted butter, sugar and cinnamon. It's popular at weddings and on holidays such as Christmas.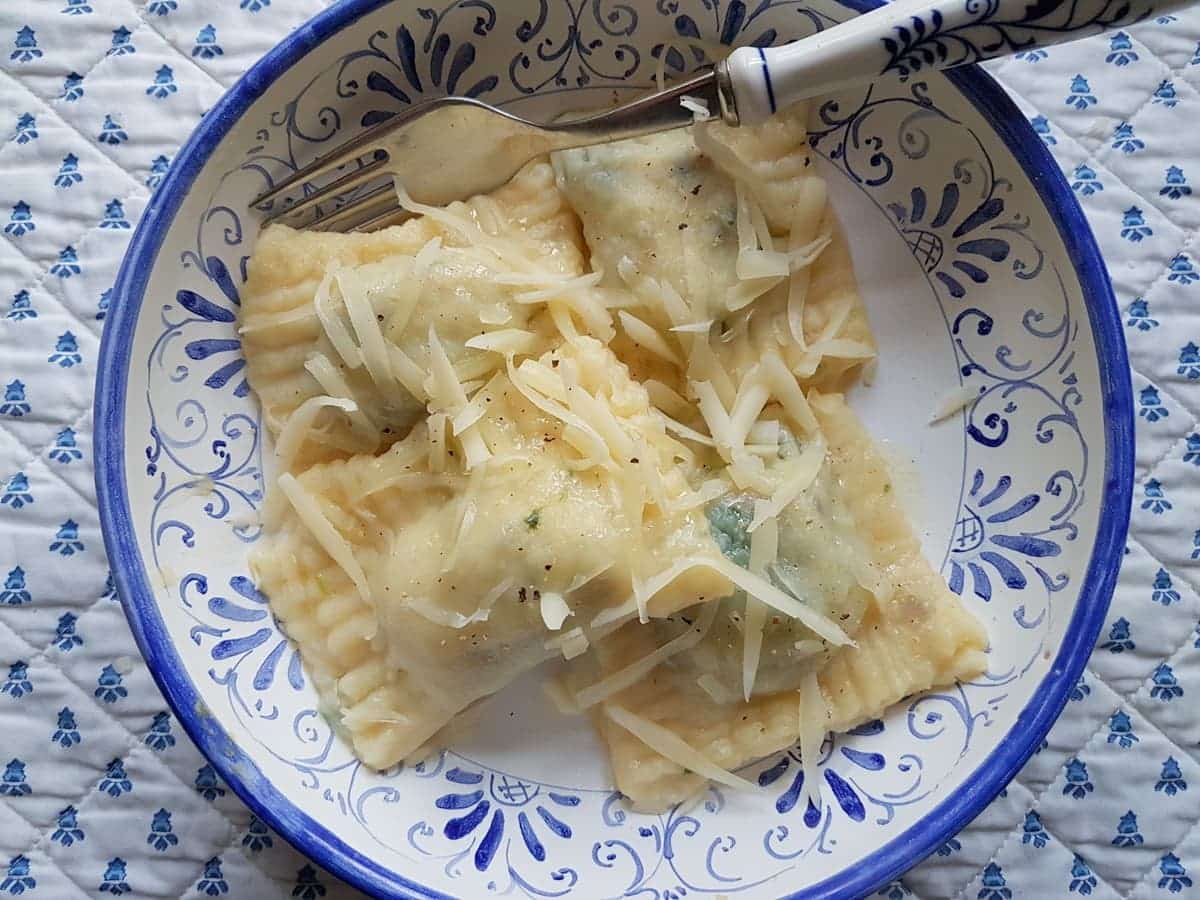 This unique ravioli from the city of Trieste is made with potato gnocchi dough which you roll out, cut, and fill like normal pasta dough. The filling has sausage meat, ground veal, and spinach along with onion and butter. Known as ofelle alla Triestina, this homemade ravioli is usually served with melted butter and grated Montasio cheese or Parmigiano.
Homemade ravioli recipe from Sardinia.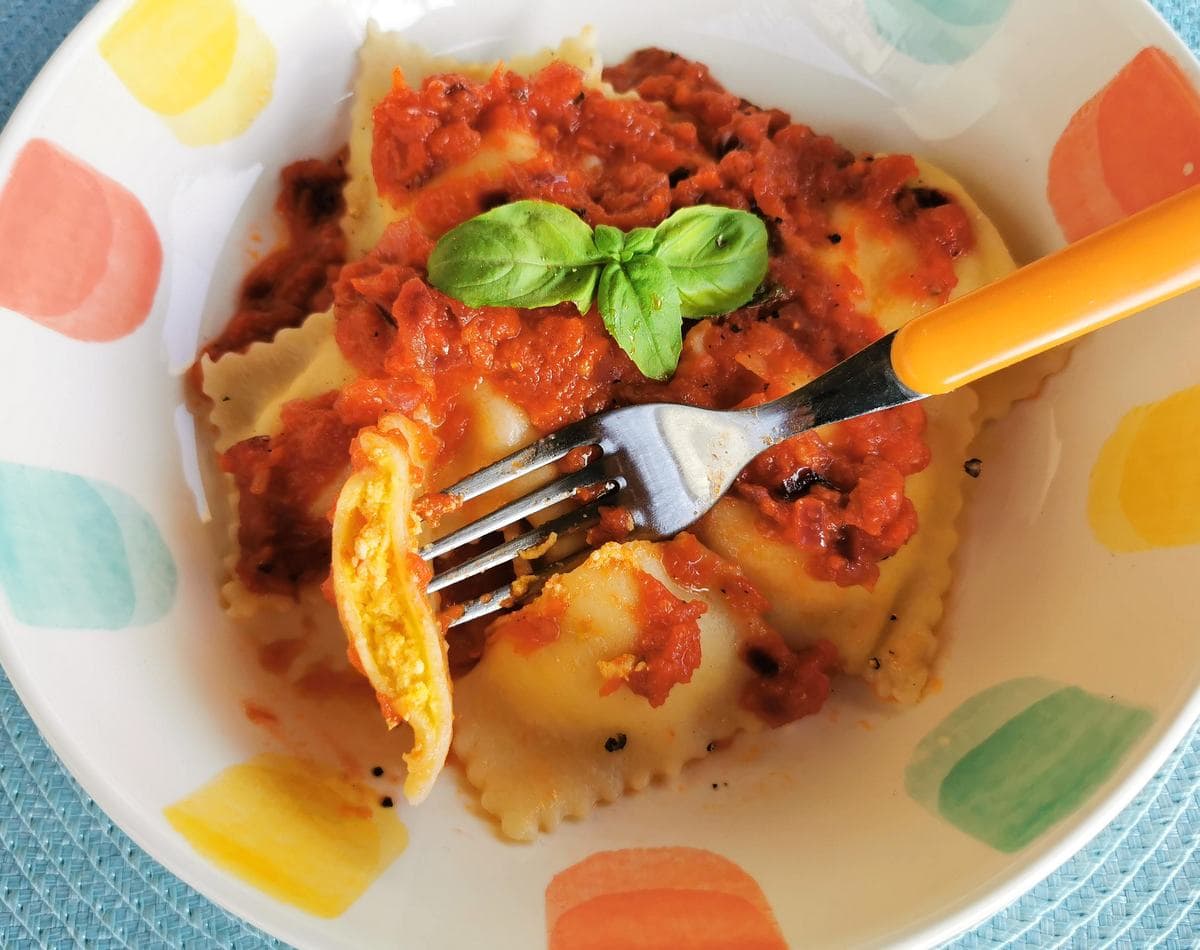 There are many types of Sardinian-filled pasta, this recipe is for a simple ravioli known as cruxionis de arrascottu in the local dialect. This pasta filling consists of sheep's ricotta, lemon, eggs and saffron. You can, of course, use cow's milk ricotta instead.
To make the ravioli dough you will need durum wheat semolina flour plus a little soft wheat flour. This dough is eggless. Instead, the liquid is warm water and some olive oil. I served this homemade ravioli with a traditional tomato sauce, which makes this recipe vegetarian as is.
Homemade ravioli from Lombardy.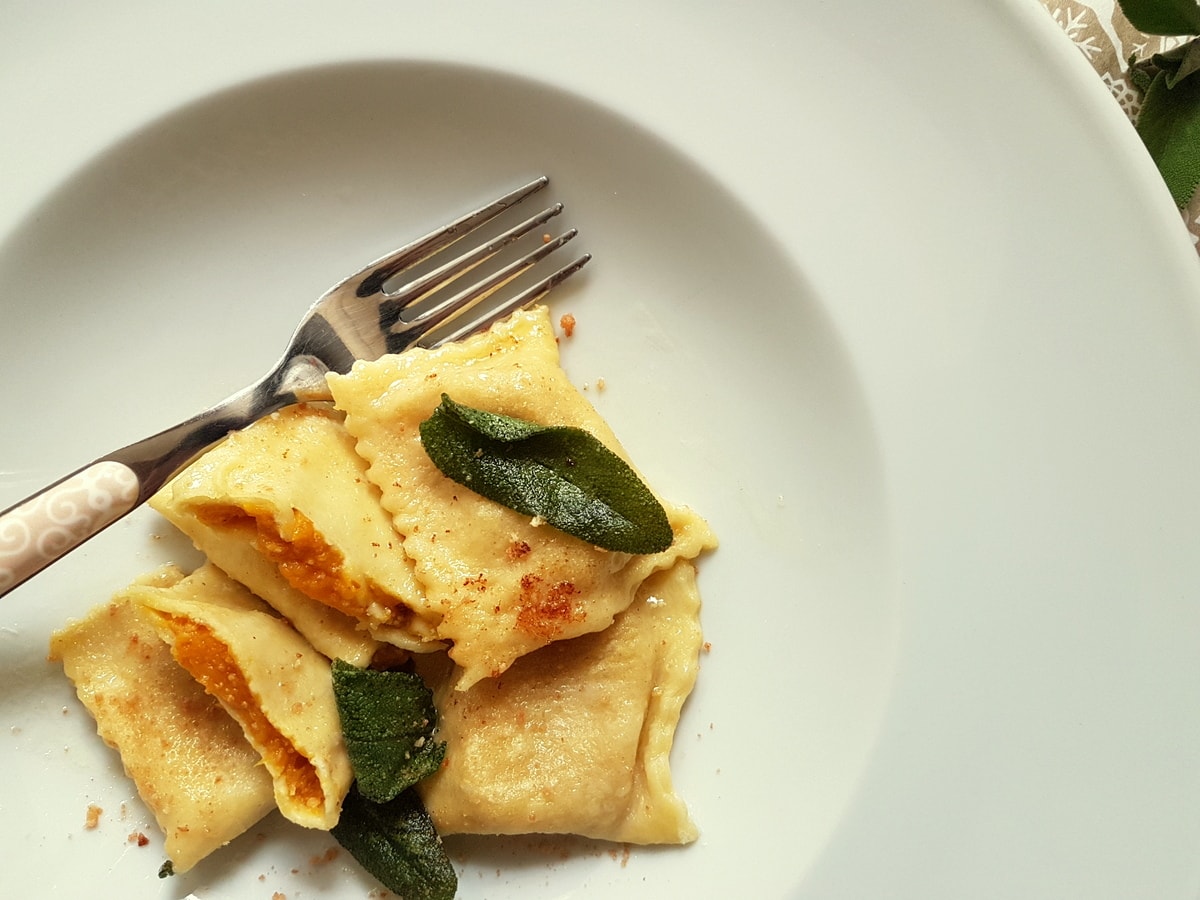 Seasoned with butter and sage, this traditional Christmas pumpkin tortelli is a divine historical stuffed pasta from Mantova in Lombardy. This pasta recipe dates back to the Renaissance when pumpkins first appeared in Europe from Central America.
The filling consists of roasted pumpkin, amaretti biscuits, eggs, Parmigiano cheese, nutmeg, and lemon zest or Italian mostarda. The dough is a classic pasta dough made with soft wheat flour and eggs. Make this tortelli vegetarian by replacing the Italian Parmigiano with vegetarian parmesan.
Homemade ravioli recipe from Piemonte.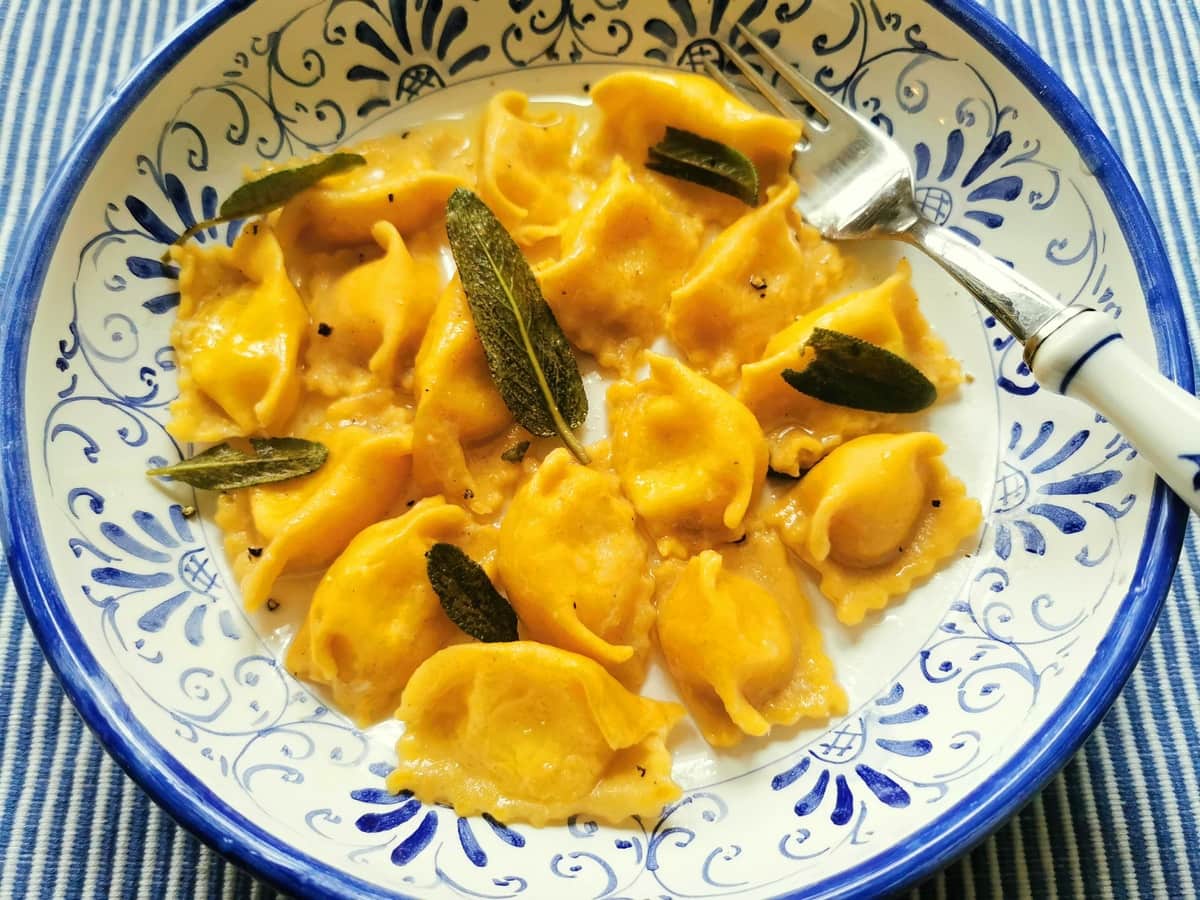 Agnolotti or ravioli del plin is a beautiful type of filled pasta from Piemonte (Piedmont). This pasta may look a little complex to make but is actually quite easy. The filling in this recipe is a cheese fondue made with fontina cheese, butter, milk and an egg yolk. You can also use gruyère or provolone. The ravioli dough has soft wheat flour, eggs, and a little olive oil.
Making agnolotti is similar to making small ravioli. In fact, the main difference is just that each ravioli is pinched at both ends to give the pasta its characteristic shape. In Piemonte, they traditionally serve this pasta dressed in sage butter.